Having quick and easy appetizers, dessert party dips during the holiday and game day season is always necessary around the house.
Dips are perfect for appetizers, potlucks, office parties, etc. Most everyone is short on time during the holiday season. So having quick and easy no bake ideas is perfect. Be sure to add this dip to your list of quick and easy potluck ideas.
Here are 5 Easy and Delicious Dessert Party Dips You must like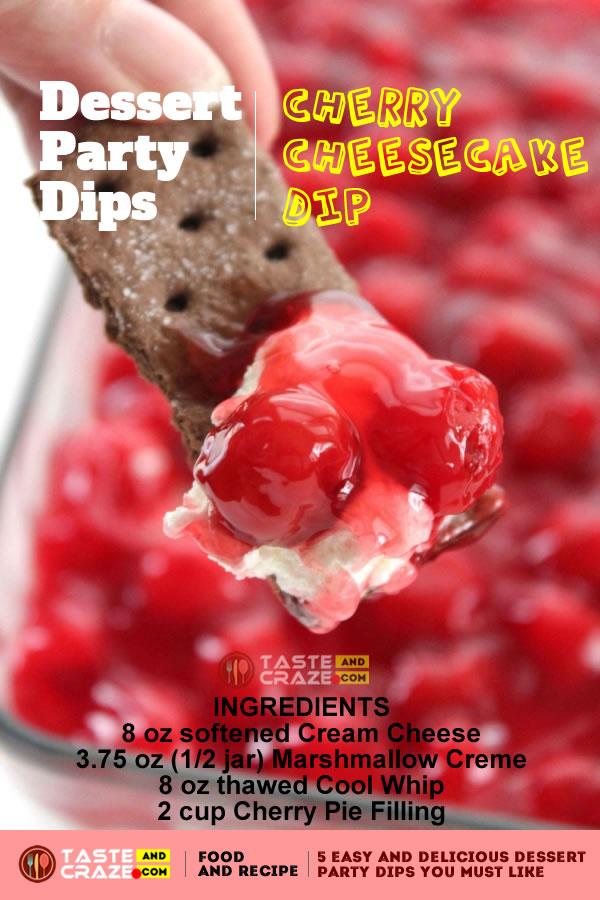 CHERRY CHEESECAKE DIP: ONE OF BEST PARTY DIPS
This cheesecake dip requires just 4 super simple ingredients. You will need cream cheese, marshmallow fluff, whipped topping, and then cherry pie filling. You can then just grab a box of graham crackers, Nilla wafers, or even pretzels to use for dipping. This stuff is so darn good.
You can find a full recipe here.
CARAMEL CREAM CHEESE APPLE DIP
This sweet, creamy, crunchy dip is the perfect little treat to go with crisp apple slices, or any of your other favorite fruits!
You will have need these Ingredients for this Party dips:
01 2 8 oz packages cream cheese
02 1 14 oz jar caramel sauce
03 2-3 Heath candy bars
04 Serve With: Granny Smith apples
You can find a full recipe here.
CHOCOLATE CHIP CHEESECAKE DIP
This dip might put me into rehab. It is so addicting. I couldn't get a grip. I kept telling myself I needed to stop, but apparently, my hand and mouth had a different plan.
You will have the need for this Party dips:
01 8 ounces cream cheese, softened
02 1/2 cup unsalted butter, softened
03 3/4 cup powdered sugar
04 2 tablespoons brown sugar
05 1 teaspoon vanilla
06 1 cup miniature chocolate chips
07 Graham cracker sticks or teddy grahams
Directions for this party dips- Chocolate Chip Cheesecake Dip
In a small bowl, beat together cream cheese and butter until smooth. Add sugars and vanilla. Stir in chocolate chips. Refrigerate until ready to eat. Serve with graham cracker sticks or teddy grahams.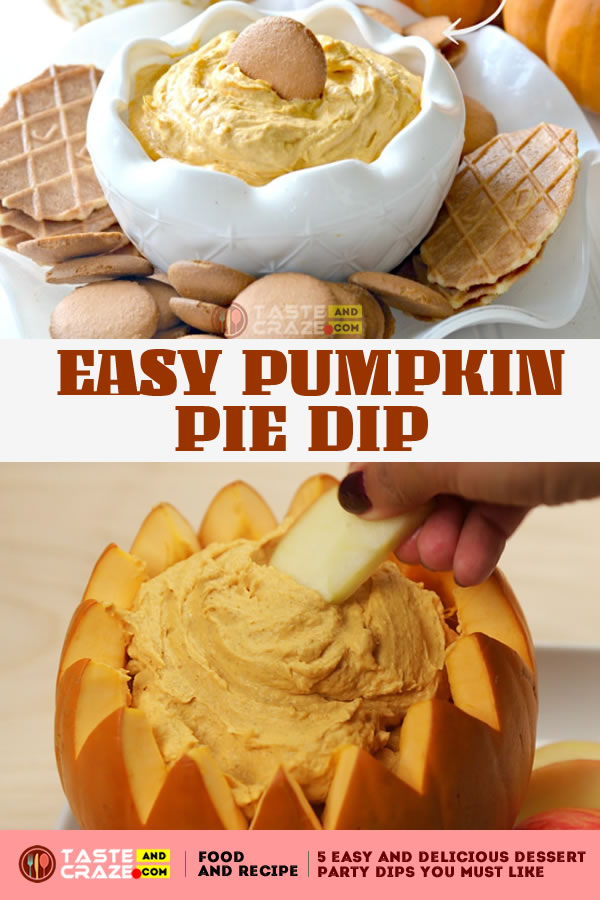 EASY PUMPKIN PIE DIP: ANOTHER BEST PARTY DIPS
If you're looking for an outstanding and easy to throw together party dips perfect for Fall gatherings, check out this awesome pumpkin pie dip that calls for just three main ingredients! If you only make one pumpkin spice recipe this year, this should be it! This fluffy, creamy and perfectly sweet dip makes a delicious snack and/or dessert.
You can find a full recipe here for this party dips.
KEY LIME PIE DIP: THE COOL PARTY DIPS
This cool, creamy no-bake Key Lime Pie Dip with bite-sized pieces of key lime pie stirred right in was created as part of a compensated partnership with Collective Bias, Inc. and its advertiser. All opinions are 100% my own.
Ingredients You need to make this party dips
01One EDWARDS® Key Lime Pie
02One small box of instant lemon pudding mix
03One cup of cold milk
048 oz.of thawed whipped topping
05 Shortbread cookies or pretzels
06Lime optional for zest and garnish
And you will find a full Instruction here for this party dips- Key Lime Pie.