This easy Italian cream cake is perfect for food lovers who appreciate good, simple recipes. It only requires a few ingredients and can be whipped up in no time at all!
Save time and space with the Panasonic 4 In 1 Multi-Oven PLUS get $120 off Blue Apron and free shipping on your first order!
Get $120 Off
Plus, it tastes delicious – the perfect dessert for gatherings or special occasions. So why not give it a try? Your taste buds will thank you!
Easy Italian Cream Cake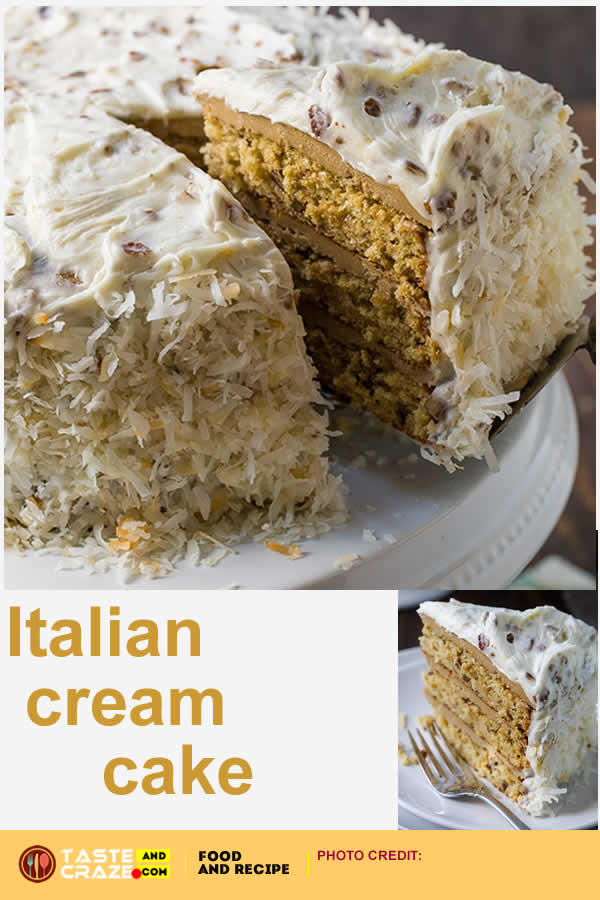 Ingredients
2 cups flour
1 teaspoon baking soda
1 teaspoon salt
1/2 cup shortening
1/2 cup butter
2 cups sugar
6 eggs
1 teaspoon vanilla
1 cup butter milk
1 1/2 cup flaked coconut (lightly roasted)
Frosting:
8 ounces cream cheese (softened)
1 pound powdered sugar
1/2 cup butter (softened)
1 teaspoon vanilla
1 cups pecans (chopped, lightly roasted)
How to make easy Italian cream cake
1. At first Preheat oven to 350 F degrees.
2. Spray  a baking dish  baking spray
3. Mix  butter, shortening and sugar together in a large mixing bowl or an electric mixer. mix them until smooth. Then add in egg yolks one at a time and mix them together with an electric bitter until they blended.
In a small bowl mix buttermilk, vanilla extract and baking soda.
Add 1/2 a cup of flour and 1/4 of the buttermilk mixture at a time and repeat this again and again. Blend well with mixer .
Gently disquiet in the pecans, sweetened coconut, and beaten egg whites, until when ease blended.
Bake for 45-50 minutes until inserted toothpick comes out clean. Cool completely on a cooling rack.
For the frosting
Mix together butter, cream cheese, vanilla, and 1/4 powdered sugar with electric mixer until it completely smooth
At last serve this cake with coconut and pecans.
Expert Note
If you're looking for a delicious and easy Italian cream cake recipe, this is the one for you. With just a few simple ingredients, you can have an impressive dessert that will wow your friends and family. So what are you waiting for? Get baking!