Healthy Dinner Idea: Flaky Parmesan Tilapia- This is a quick and easy way to include more fish in your life. There is only so much chicken and red meat you can eat, so please make room for fish! It is a wonderful, slimming part of a balanced-protein approach. This healthy dinner idea is an inexpensive way to try something new with your family.  We have another post for 3 healthy dinner ideas for kids – super quick, super healthy ideas, you can look.
Healthy Dinner Idea: Flaky Parmesan Tilapia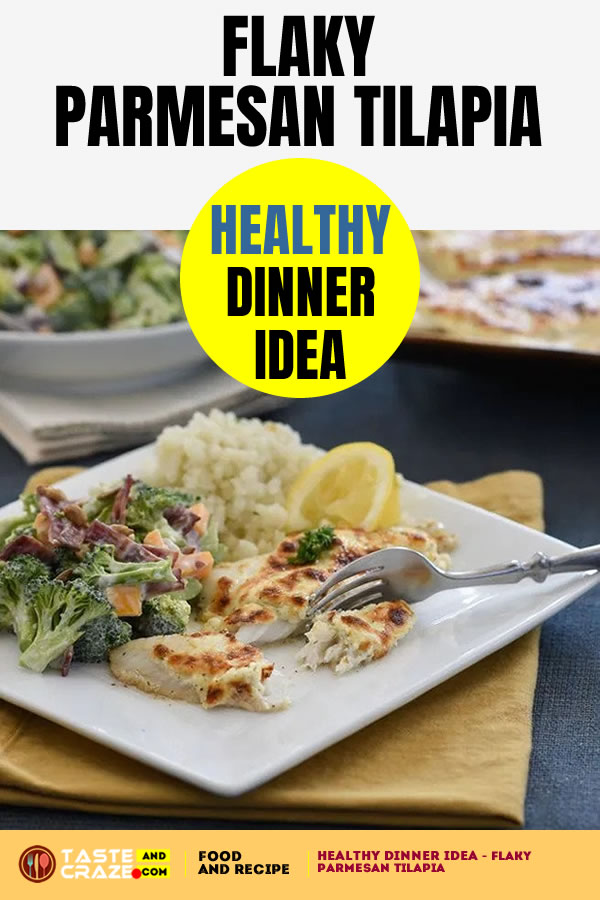 Recipe for this healthy dinner idea is incredibly flaky and full of flavor, and it's a great way to get your children to start liking fish. It need not be expensive, either. You can buy 2 pounds of frozen tilapia fillets from any landlocked grocery store inexpensively and thaw them before cooking. If you don't like the idea of using tilapia, use any other thin white fish of your liking.
Ingredients for this healthy dinner idea
>> 2 pounds tilapia
>> 4 tablespoons (1⁄2 stick) butter, melted
>> Black pepper
>> Red pepper flakes (optional)
>> 3⁄4 cup grated Parmesan cheese
>> 1⁄4 cup mayonnaise
>> 2 heaping tablespoons Greek yogurt
>> 3⁄4 teaspoon dried dill
Directions to prepare this healthy dinner idea
1
Preheat the oven to a high broil. Rinse the fish and pat it dry. Place it in a single layer (no overlap) in an extra-large baking dish or 2 medium baking dishes. Pour the melted butter over the top and turn each fillet in the butter to coat well on both sides.
2
Sprinkle lightly with black pepper and pepper flakes (if using). Combine the Parmesan, mayo, yogurt, and dill in a bowl and stir until paste forms. Set aside.
3
Put the fish on the second rack from the top of the oven and broil for 3 minutes. Remove from the oven, turn each piece over, and smear with some Parmesan paste to cover the top of the fish (easily done with a fork).
4
Broil for another 4 to 5 minutes, until it's bubbling and golden brown on the top and flaky in the middle.