Summer veggie stack sandwich, Featuring their perfectly crafted brioche style hamburger buns, is great for launch or dinner.
Save time and space with the Panasonic 4 In 1 Multi-Oven PLUS get $120 off Blue Apron and free shipping on your first order!
Get $120 Off
What about Brioche Style Hamburger Buns
Start with the perfect bun; it's the one ingredient that will make or break your burger or sandwich. Brioche Style buns offer the perfect indulgent combination of soft texture, subtle sweetness, and pure goodness.
Elevate your family's back yard grilling favorites with the latest hamburger bun everyone will love. You can get it here.
Hamburger Buns nutrition facts:
No artificial preservatives, colors or flavors
No high fructose corn syrup
Non-GMO Projected Verified
0 grams of trans fat
Low fat
Summer Veggie Stack Sandwich Recipe
Okay, let's see the recipe. This is for 4 servings. You need 12 ingredients and approx 20 minutes to prepare, at all.
Summary:
Course: Main Dish, Launch, Dinner
Servings: 4
Author: Natures Own Bread
Prep Time: 10 mins
Cook Time: 20 mins
Total Time: 30 mins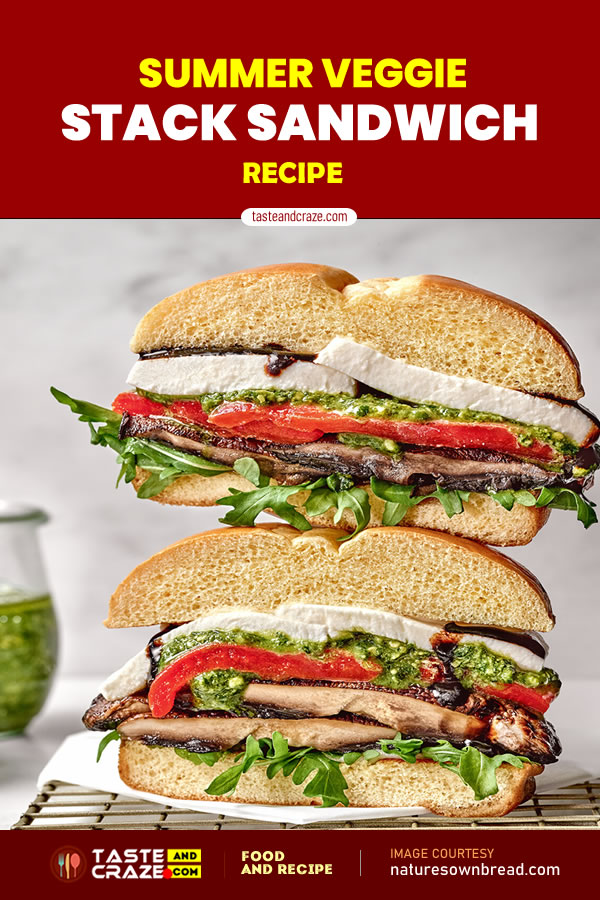 INGREDIENTS YOU NEED
DIRECTIONS
Clean mushrooms by using a teaspoon to scrub away their gills.
In a shallow glass, add 1 cup olive oil, 4 Tbs balsamic vinegar, dried oregano, and the garlic clove.
Add mushrooms, gill side down and roasted red peppers.
Let the vegetables marinate for 10-15 minutes.
Heat skillet to medium and saute portobello until brown, about 3 or 4 minutes on each side.
Assemble the sandwich.
Spread both cut sides of the bread with 3 tablespoons of the basil pesto.
Lay the arugula leaves on the bottom bun and top with the mushrooms.
Season with salt and pepper and sprinkle the chili flakes.
Top with the roasted peppers and fresh mozzarella slices.
Using a small spoon spread the remaining pesto over the mozzarella.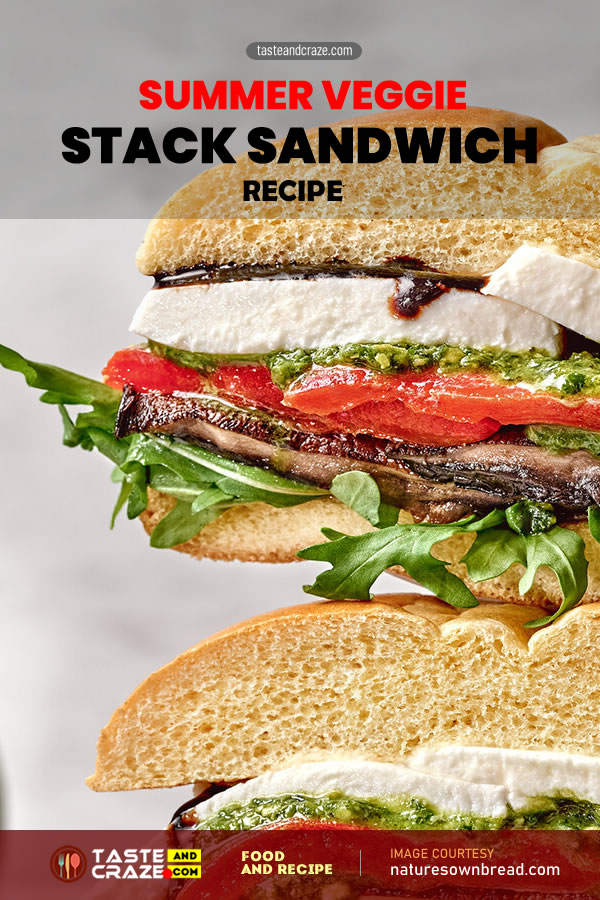 MiaBella Traditional Aged Balsamic Vinegar
MiaBella Traditional Aged Balsamic Vinegar is handcrafted in small batches and carefully selected for your enjoyment. Each bottle of MiaBella contains only the finest quality traditional aged balsamic vinegar. Made of 100% Trebbiano grapes grown on the rolling green hills of Modena.
No added caramels, flavors, or preservatives.
Balsamic vinegar might be the single best kept secret in a person's pantry. With the perfect balance of sweet and rich flavors, the centuries old recipe is extremely versatile and can be used on salads, sauces, and marinades or drizzled over steaks, strawberries, and even ice-cream!
Buy From Amazon
Traditional Balsamic Vinegar is made from a reduction of cooked Trebbiano grape juice called grape must and is nothing like the vinegar we find on most grocery store shelves.
Originating in the Modena and Reggio Emilia regions of Northern Italy, Traditional Balsamic dates back to the Middle ages.
First documented in a poem written in 1046, today's traditional balsamic vinegar is a highly valued, sought after product known by few but loved by all who have had the opportunity to taste it.
At MiaBella Foods we are dedicated to bringing you the highest quality ingredients so that foodies and home chefs can create memorable culinary experiences that worth sharing. Shop out entire collection for the perfect gifts for the food lover in your life.
MiaBella is the perfect gift/cooking ingredients for home chefs.
Try MiaBella Traditional Aged Balsamic Vinegar on:
Meat
Fish
Cheese
Salads
Strawberries
Even Vanilla Ice Cream!
Buy From Amazon