Try this high paced challenging 8 bodyweight exercise leg workout routine just for women to tone and tighten the lower body.
Sometimes you just don't have access to gym equipment or even a band.  So, here's the best way to get the tone and fit legs using just 8 Body Weight Exercises for a complete leg workout routine that will help you tone, tighten and firm your butt and legs.
Leg workout routine right at home
Try this leg workout routine right at home when you wake up, kids are napping or on lunch break at work.
Not only are tight and toned legs aesthetically pleasing, but the strength that comes with them also acts as the foundation of every movement we perform, even outside of the gym.
In our quest for lean and powerful legs, many of us do countless sets of machine-based exercises like hamstring curls and leg extensions.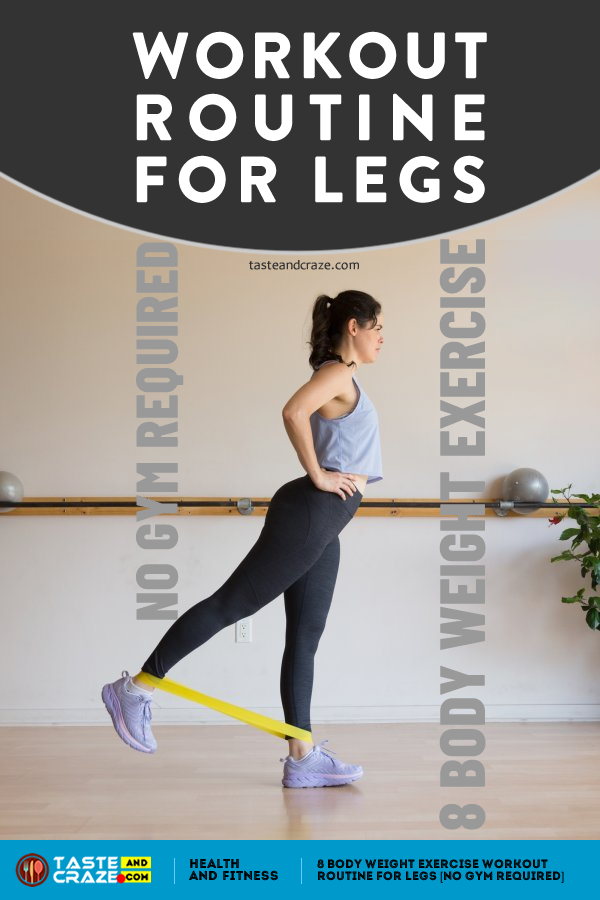 But these exercises don't measure up to the exercises I'm going to show you today, which are referred to as functional training exercises.
Functional training exercises mimic movements you perform in the real world and also recruit several major muscle groups at once.
How To Perform this Workout Routine For Legs
On this workout routine, below I'll show you the top weight training exercises to strengthen legs – which will also sculpt and tone every inch of your lower body.
Best Home Leg Workout Routine For Women
Air Squats 50
Squat Pulses 50
In To Out Jump Squat 50
Lunge Pulses 50 per leg
Low Skate Push 50 per side
Bridges 50
Stand-Ups 50 per leg
Run 1/2 mile, Sprint Back 1/2 mile
Repeat the entire program (all 8 leg exercises) above 3-6x…call it a day or keep training.
You need to force your legs to grow. Your legs will resist you. They will burn, shake and burn some more while you work out, but you need to push through and want more, as this is the only way to make your legs grow.
The legs consist of many muscles so you will need to use a good amount of volume, many angles, and different exercises to stimulate all the muscles of the legs. Our rep range will depend on the exercise. I like to use a lower rep range (4-6) with most of the compound exercises to help build strength and a solid foundation.