Just because it's a wedding doesn't mean you are restricted to serving only cake. If you and your partner split a sundae at the end of your first date, treat your guests with some quirky wedding dessert bars.
If you don't consider yourselves cake people, throw some apple streusel, cherry pie or peach cobbler into the mix.
Adding a sweets station to your reception food menu is a great way to stretch a dessert budget, especially if you have a large guest list and can't afford a big wedding cake.
If you're doing a treat station that's easy to take-away, like candy or cookies, it can easily double as favors too! Add tasty flair to an elegant or rustic wedding reception with a dessert table that tantalizes guests while reflecting your unique personality.
5 Creative Wedding Dessert Bars Ideas
Here are some of our favorite quirky wedding dessert bars ideas to inspire your own.
1. Quirky Donut Cart
Offer your guests fabulous fresh, hot, mini doughnuts, or donuts as some would have it. Definitely one of the world's all time favorite dessert snacks, served dusted in sugar or cinnamon, and drizzled with a selection of sauces and Nutella dip. Each donut comes with a free hole.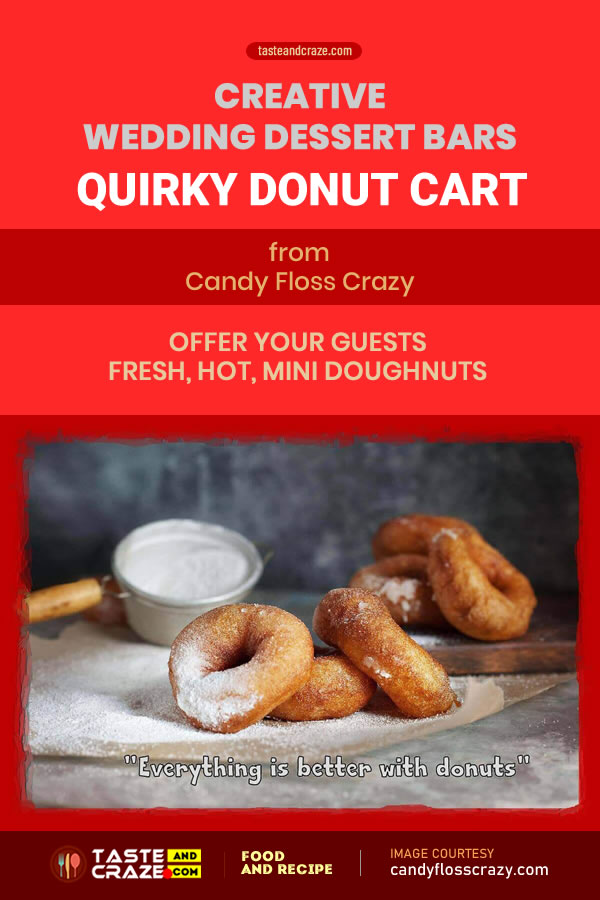 Provided on a themed doughnut stand either indoors or out, mini doughnuts are a perfect addition to weddings, birthday parties, fun days and corporate events.
They also are absolutely fabulous when you pair them with one of our Hot Chocolate carts. Learn more about Quirky Donut Cart from candyflosscrazy.com.
2. Mini Fruit Pie Wedding Dessert Bar
From apply to cherry to chocolate cream, your guests will love these mini pies.
3. Cutout Shape Wedding Cookies
From icing monograms to state cutout shapes and, yes, even designs with your faces printed on them, wedding cookies are a great way to satisfy your sweet tooth and add an element of personalization.
4. Churro Bar Wedding Dessert
When we happened upon this wedding, we immediately thought of flamenco music and jamon hors d'oeuvres! Churros are a Spanish inspired treat, and the dough paired with cinnamon always makes us think of celebratory nights with friends or evenings spent at the fair.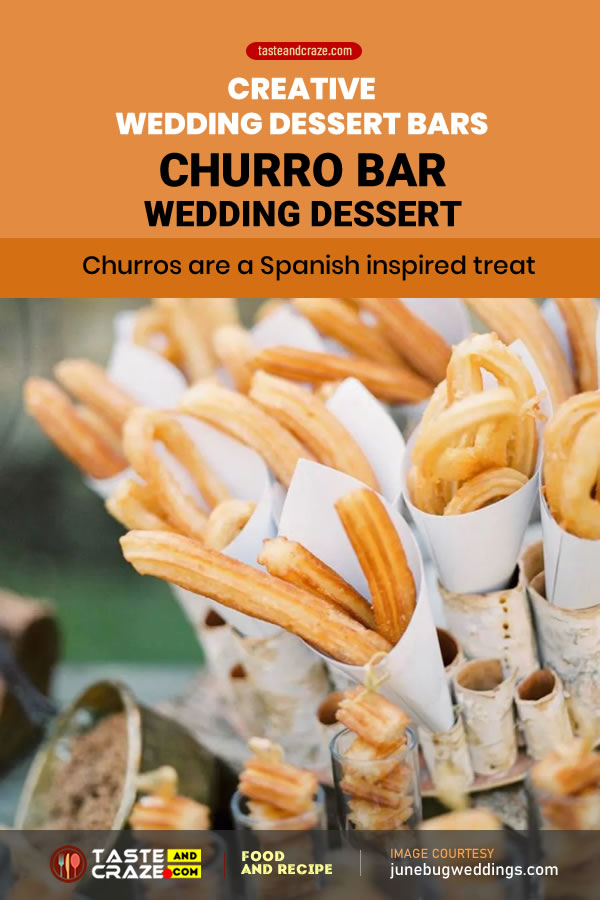 Plan to serve them plain, or add a toppings bar for guests to dip their churros in a variety of options, including chocolate sauce, sprinkles, and candy.
5. Captivating Cakes
Who says you should have only one wedding cake? We say, the more the merrier. That way, you won't have to settle on one flavor or style, either.
Think Gluten-free Strawberry Shortcakes, Mickey Mouse Marble Cupcakes, American Classic Pancake or Peanut Butter Cheesecake Chocolate Heaven … whatever you like!