Thai Salmon Recipe with easy healthy sweet chili sauce oven-baked in winter or grilled on a cedar plank in summer. Learn the recipe yourself.
Save time and space with the Panasonic 4 In 1 Multi-Oven PLUS get $120 off Blue Apron and free shipping on your first order!
Get $120 Off
Thai baked salmon recipe
In our household, we have been enjoying this Thai salmon recipe with sweet chili sauce. In winter, I bake it in the oven and in summer, we turn it into cedar plank salmon on the grill.
The second version is unbelievably tasty but the oven method is just as good minus the smoky flavor.
In case you are cooking for a family, know my kids didn't find this Thai style salmon spicy at all and they are picky with spices. It was a perfect amount of a heat kick and nobody complained about sweetness.:) I would omit green onions for kids and a must for adults!
Course: Main Course
Cuisine: Thai, American
Prep Time: 15 minutes
Cook Time: 13 minutes
Total Time: 28 minutes
Yield: 6 servings
Recipe Author: Olena Osipov
Ingredients needed for Thai salmon recipe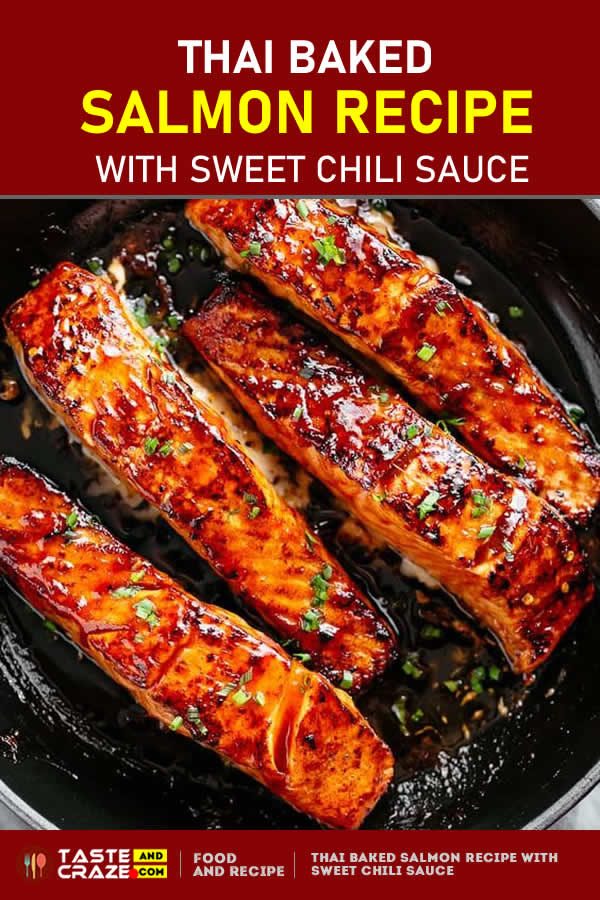 Instructions
1
Make Thai sweet chili sauce. (If you don't know to make Thai sweet chili sauce, you can purchase Thai Taste Sweet Chilli Sauce – 450ml from Amazon)
2
In a large baking dish, add salmon in a single layer. Each fillet: sprinkle with a pinch of salt and top with 1 tbsp of Thai sweet chili sauce.
Brush or rub with your fingers to coat fish with sauce evenly on top, bottom and sides. Cover and let marinate in the fridge for at least 2 hours or overnight is the best (up to 24 hours).
3
Turn on oven's broiler on High and position top oven rack 6″ below the heat source. Line large baking sheet with foil or silicone mat, spray with cooking spray and place salmon fillets skin-side down (if any). Coat with remaining marinade from the dish.
4
Broil for 8 minutes, rotating baking sheet once. Remove from the oven and brush top of each fillet with 2 tsp of Thai sweet chili sauce. Return to the oven and broil for another 5 minutes or until salmon has caramelized.
5
Serve hot garnished with green onions, extra sauce (if desired) and brown rice or quinoa + any salad.
Before to go with this Thai Salmon Recipe, you can learn some things about salmon. I think they will be helpful to you.
Related things to know about Salmon
Salmon is a popular food. Classified as an oily fish, salmon is considered to be healthy due to the fish's high protein, high omega-3 fatty acids, and high vitamin D content.
Salmon is also a source of cholesterol, with a range of 

23–214 mg/100 g

 depending on the species.
Other food value of Salmon
According to reports in the journal Science, farmed salmon may contain high levels of dioxins. PCB (polychlorinated biphenyl) levels may be up to eight times higher in farmed salmon than in wild salmon, but still well below levels considered dangerous.
Nonetheless, according to a 2006 study published in the Journal of the American Medical Association, the benefits of eating even farmed salmon still outweigh any risks imposed by contaminants.
Farmed salmon has a high omega 3 fatty acid content comparable to wild salmon. The type of omega-3 present may not be a factor for other important health functions.
Salmon also provides important amounts of the antioxidant amino acid taurine. Salmon is an excellent source of vitamin B12, vitamin D, and selenium.
t is a good source of niacin, omega-3 fatty acids, protein, phosphorus and vitamin B6. It is also a good source of choline, pantothenic acid, biotin, and potassium.
Avoid Buying "Bad" Salmon
Read labels: Today manufacturers are very marketing savvy. They have departments working 24/7 on how to sell you their farmed salmon. See below.
Don't buy Farmed: Obviously, it is farmed in the closed-off areas, artificially colored, fed antibiotics and exposed to pesticides. It is also high in Omega 6s and is devastating for wild marine life.
Don't buy Atlantic: Atlantic salmon is the same farmed salmon, just a different name. Surprised? I was too!
Don't buy Organic: Organic salmon is the same farmed, just fed organic feed. It's not much better and so expensive!