This 15 minute Home boxing workout routine is a great way to burn fat, lose weight and relieve stress- right at home.
Looking for federally legal way to enjoy cannabis?:
Buy Delta 8 Online
This Home boxing workout routine can be 15 minutes or 60 minutes depending on the number of times you repeat the entire boxing exercises.
You'll just need a stand-up a punching bag or hanging heavy bag, boxing gloves, and boxing wraps.  Oh yeah, and this boxing workout video of course.
As you know, boxing is a high paced workout that can help you tone your body from head to toe.  The key to losing weight and getting fit with boxing workouts is to learn the correct form for punching and moving.
Learning how to punch and how to box like a pro-boxer gives you better results.  The better you are at punching the more challenging the workout because good boxers punch with their body and not just their arms.
Looking for a fast and reliable Hosting?
iPage Web Hosting -- Go Green for only $1.99/mo.
Today's quick home boxing workout routine will teach you punching exercises, boxing training and how to use boxing for a workout.
3 minutes– jump rope
1 minute: jab-cross-spring-cross
3 minutes: repeat 5 reps of each without rest (push ups, pull ups, jumping squat with a 20 lb medicine or slam ball)
1 minute: shovel punch -right and switch- shovel punch- left
Repeat entire boxing workout routine above 2-4x to learn boxing basics and boxing training exercises.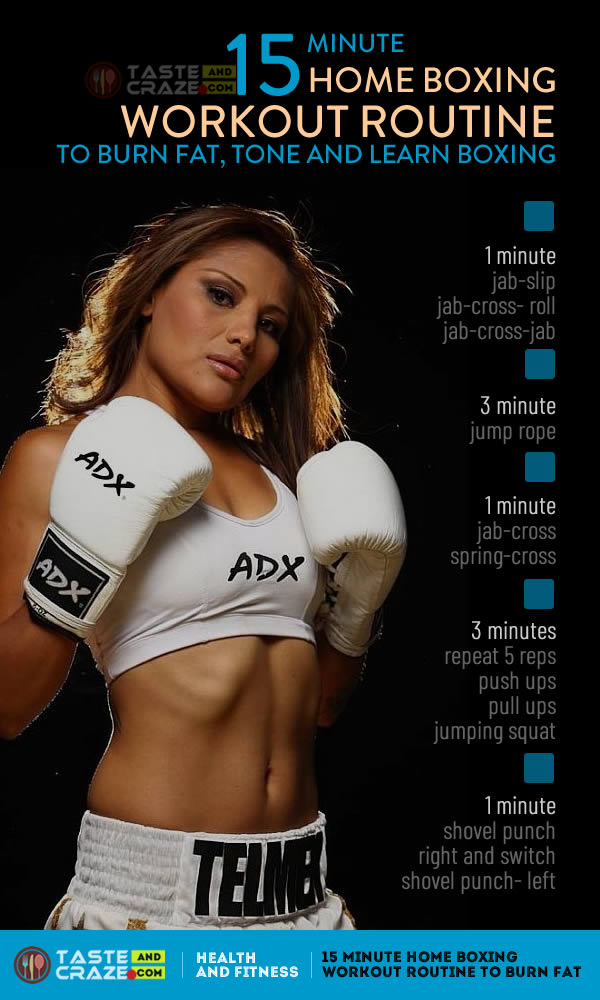 LADIES! Want a complete home boxing course that will help you lose weight, learn boxing and transform your trouble areas while toning and sculpting your body from head to toe?
Related things to know: 
What is the best boxing workout routine?
What is the best boxing workout? A boxing workout can increase endurance, strength, and speed. Our forum members have put together great workouts, talk about different methods, myths, and what kind of workouts they followed. Read on and try them out!
THE QUESTION: A boxing workout can increase endurance, strength, and speed. Although boxing workout routine can be cruel and intense, the risk is worth the reward.
Boxing workouts can consist of:
Jumping rope
Shadow boxing
Heavy bag
Speed bag
Sparring
Weight training
Running
Etc.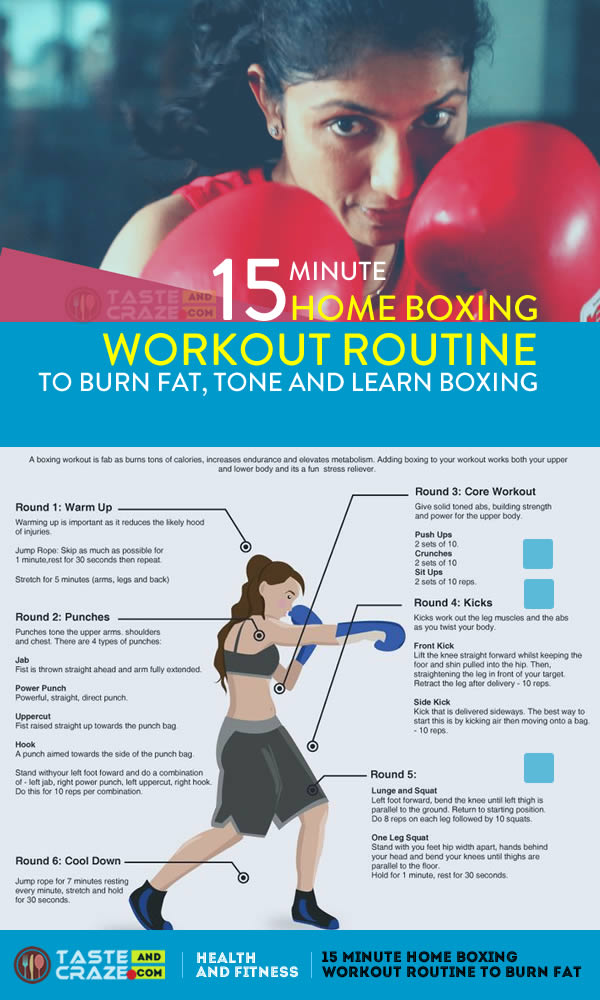 Benefits of following a boxing workout routine?
There are several benefits of a boxing routine, so here is a list of them. From jabs and crosses to jumping rope, boxing workouts challenge the whole body. Exercisers at any level can improve fitness by adopting a few moves and adding them to your routine.
Boxing workout routine Increases in the following:
Speed
Agility
Power
Strength
Aerobic Endurance
Anaerobic Endurance
Boxing workout routine decreases in the following:
Fear
Stress
Body Fat Percentage
Boxing workout routine Improvement in the following:
Fighting
Discipline
Confidence
Body Shape
Coordination
Self Defense

Learn more here: Yes Doug, show me the best home boxing workout course that includes weight training, body slimming diet and the #1 home boxing workouts.